The establishment of the study centre 'ROSA MISTICA', is an initiative that arises during Covid-19 pandemic. In fact, social isolation, separation from the family, individual solitude and an uncertainty that is prolonged without knowing its end, greatly affect the balance of people already suffering from dementia or Alzheimer's. We also noticed it in our old age home.
Therefore, during the lockdown, the need has incresed to extent a more lively closeness to the sisters and the guests who live with us, convinced that the attention to the person and medical care are not enough, but their spare time must be spend by giving space for dialogue and to contact their families. In short, giving life to the years.
As a Congregation of the Sisters of Providence, we wish to offer those who work in the socio-health sector, moments of study on fundamental issues involving assistance to the elderly and the sick, especially in the 'evening' of life.
We will begin by deepening the themes relating to non-pharmacological therapies, and then expand the proposals to other themes and therapeutic techniques.
You can participate in the inauguration of the 'Rosa Mystica' Center remotely through one of these site
s:
https://www.rosamisticacormons.it/


https://www.youtube.com/user/chiesacormons


https://www.youtube.com/user/chiesadigorizia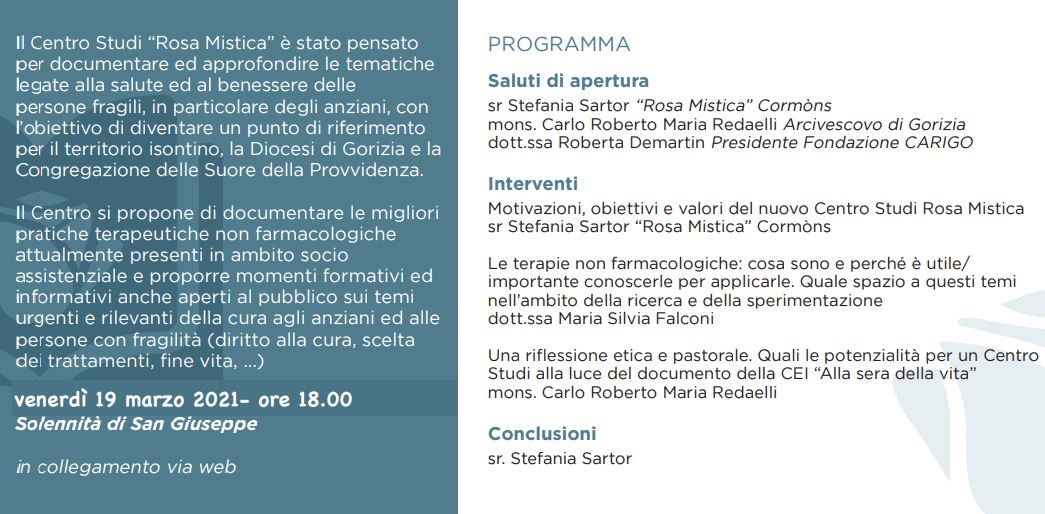 ---
Image Gallery
{gallery}1035{/gallery}